"A to Z Teacher Stuff", an online forum of real teachers, has a thread outlining the ridiculous amount of time we spend writing IEPs. On average, the teachers in the forum spend upwards of 7 hours a week compiling data and writing IEP reports. One teacher explained that each IEP she creates for her special education students begins with a 2-hour planning process where she outlines possible student outcomes. It's not as if we have a choice to write these either, since an IEP is a special education legal requirement. 
We never learn how time-consuming it is to maintain education records for our students  – nor are we taught everything involved in the process until we are already in a school.
Literally, everything involved is a time-consuming nightmare. If you think about it, these are just the tip of the iceberg for everything involved in creating and maintaining an IEP: 
IEP meeting letter (a meeting notice)

Writing the IEP

Keeping track of student progress towards IEP goals

Time spent creating custom reports

Meeting participation (sometimes a huge pain because parents may or may not show up
As we said, these issues are just starting to scratch the surface, and they cost you time.
Time you cannot recover.
Time you are not paid for.
Time that you could spend having a life outside of work.
And, the worst realization of all? That all this comes from one single IEP. Now, multiply the number of hours you spend on a single IEP by ten, or twenty, and if you're like us, you're overwhelmed – especially when you realize that you will probably not have a free weekend during the academic year.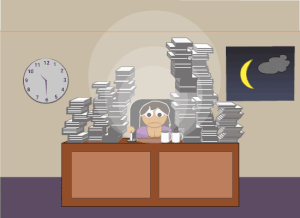 But…what would you do if you could channel all that time spent on an IEP into having fun? How valuable is a program that can give you back your weekends, allow you to get to and leave work on time? Say no to spending your holidays writing IEPs. 
Instead, say hello to drinks with friends. Take a sip of your margarita as you sit in Cancun, not worried at all about planning an IEP for the upcoming year. Take the freedom that time affords you, and do with it what you will. 
Are you down? Cause we definitely want in on this action…
And guess what…
We have a solution that is the most revolutionary of its kind and gives you the one thing you can never get back – your time.  To sum up, fastIEP is simple, easy to use and the best way to put yourself in control of your most valuable asset. 
Are you ready to gain 25 days of freedom per year? With fastIEP, it's no longer a dream. We have turned the possibility of unleashing your teaching potential into a reality. But, how can a program, a free one at that, bring you so much value? Here's how it works – feel free to tell your friends, because you will quickly become the star teacher and the most loved SpED teacher in your school. 
First, head on over to our website. We want teachers like you to spend less time on IEPs and more time improving your students' education. So, you can use our program with full functionality and all features for free, forever. If you are a mainstream teacher who has one or two IEPs you are set for life and never have to pay a cent to use our program or access its features.
So, why should fastIEP be worth your time?

In a SpED classroom, some students may rely on consistency. When there is a change your students could become uprooted – meaning you need to stop everything and spend time getting them back on track.
You also need to make a report of the incident- and too often it ends up on a small post-it note, buried under piles of paper.
Hopefully at the end of the day, before clocking into IEP mode, you are able to find it without spending 45 minutes looking.
Well, using fastIEP you can log incidents with the click of a button, keeping your classroom in order and your time on your side and other teachers impressed with your time management.
And…
In the event the principal was to walk in and ask for some records quickly, as they do from time to time, you can simply email them an automatically-generated PDF report directly from fastIEP.
Imagine that – everything in one place, consolidated, and replacing the need for that clunky, messy and hard to navigate hanging file folder that is present in every classroom.
And yeah, fastIEP gets better (and we bet you were thinking it couldn't). For most teachers, an IEP is already on the computer. So, you're probably saying to yourself – so what? Why should I use fastIEP?
Did you know that, in most cases, you can complete your student's IEP without typing a single word? 
Yeah, that's right. We have an extensive log of incidents that you can choose from for any situation you may need to include in your IEP. And, our easy to use interface has pictures to help you quickly understand where to click without an extensive training course.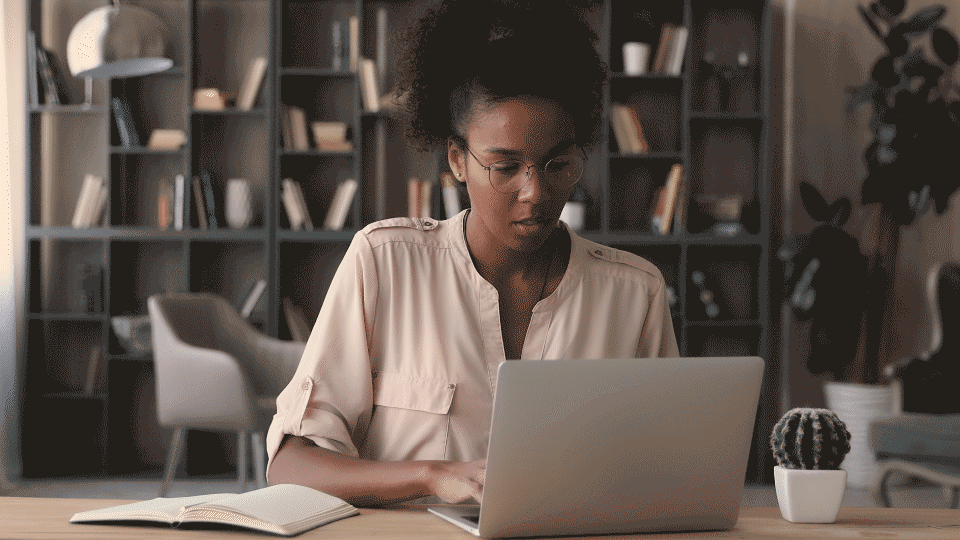 When you create your account with fastIEP, here is all you do.
First, registration is simple. You just enter your name and email address, and you instantly have access. You don't need to think up a password or dig through your email to find a verification code.
Once you're in you will see students on the left – and adding a new student is simple. Click the plus sign, enter your student's first and last name, their next IEP review date, and even choose a color to help you identify the student on the fastIEP platform.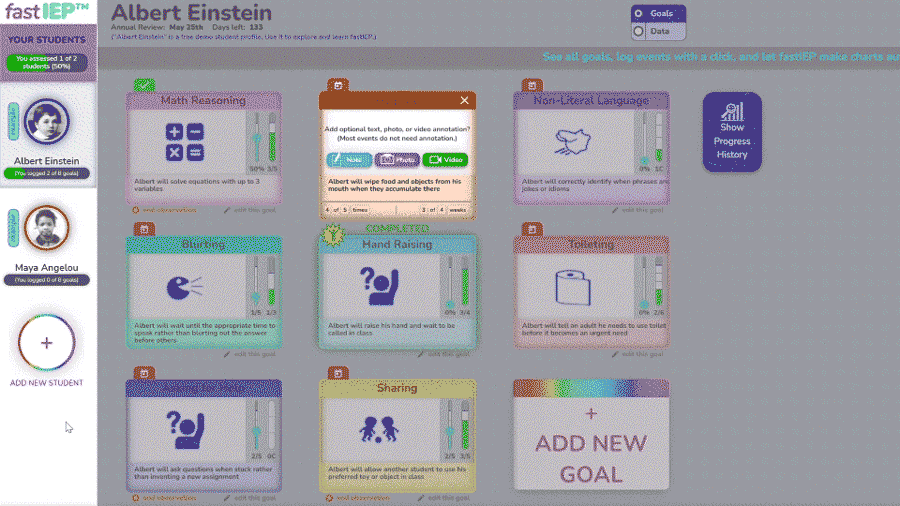 Right smack dab in the middle of the screen you will see a list of the most commonly tracked IEP goals. These are big, easy to read, colorful squares and to track or log an item, you just click on the box. Within the box you choose, you will even see a progress bar so you can know exactly which goals your students are meeting and how often they complete them.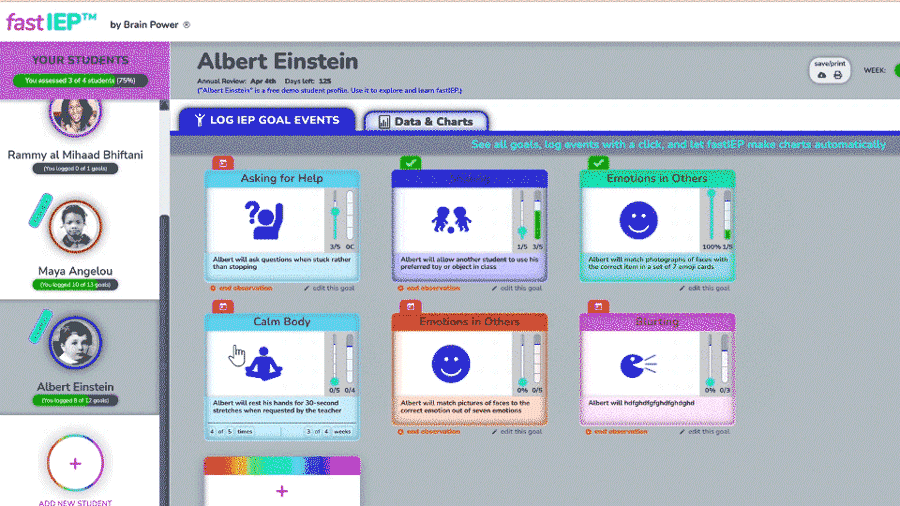 Need to track a goal that isn't there by default? No worries! We got you covered. Click the add goal box and you can enter your goal, its category and the tangible, measurable action, performance, or change you need to track. Click save and that goal is now stored in your fastIEP portal.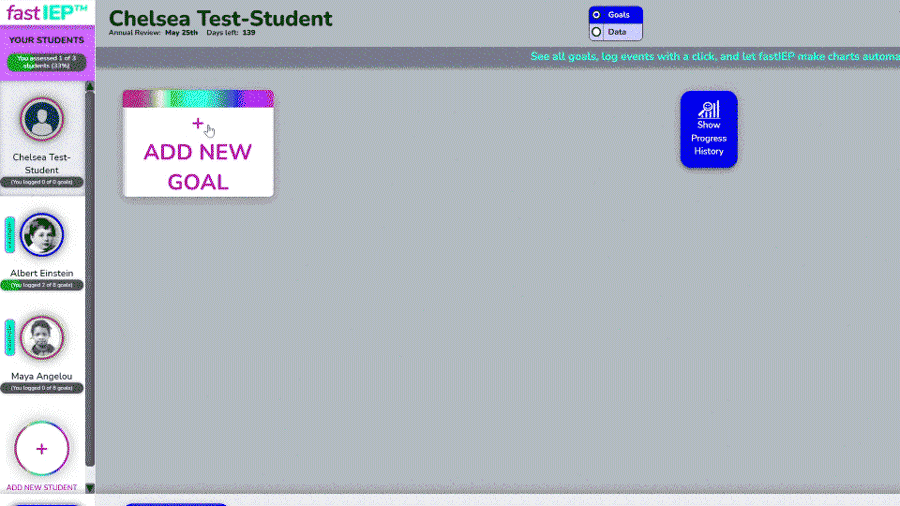 And that is how you regain control of your life and become the teacher everyone wants to be. 
You won't be a slave to the time you take to complete work that isn't paid. Yeah, in the first year you can save 150+ hours, and in the next year this doubles. In four years you will have saved enough time to learn a second language, something we should all consider.
Tomorrow, after creating your fastIEP account, you are going to click a button to log your first IEP incident or progress, then close your laptop and go home at the same time as your students. With just 30 seconds of work, you get to go enjoy your evening. 
fastIEP helps you professionally organize your mind by doing what you have to do in a fraction of the time. 
Your account is free for life for two students, but if you sign up for a paid account now, you get all this value and unlimited students at 50% off the original cost. Isn't your time worth $7 a month?
Claim your free account now and live the life you deserve.